Maybe, our project focuses on retro-automobiles and everything connected with this world, but we do not regard this field as purely male. And we have already had many evidences, like an interview with Amy Shore, a British photographer who came to us the other week. But taking pictures of cars is one thing and driving them is quite different. And this facet of retro-automobile world will be in the focus of our conversation with a female duo who were the winners of 2019 «Mille Miglia» in the corresponding category. Here, on AutoClassicNews – Silvia Marini and Francesca Ruggeri (Italy, of course).
— Good afternoon, Silvia, Francesca! We are extremely happy that you have managed to extend «the parade of the champions» in our rubric «Interview». Traditionally we'll begin with the roots. After having a talk with Andrea Vesco, Andrea Guerini and Andrea Belometti we have come to the conclusion that for citizens of Brescia it is very natural to be keen on retro-rallies. And what did your passion to classic cars start with?
Francesca Ruggeri: Good afternoon, we are so glad to be here, too! I'll take the floor because I know how wordy Silvia can be (smiling). My passion for classic cars started thanks to my father Cesare who has always been a motoring enthusiast and since I was young he always took me to classic cars events and of course to see «Mille Miglia» passing through Cremona which is my hometown. Many years ago, he began to restore an Austin-Healey 3000 Mk III (BJ8) and in 2016 we started to attend regularity races together.
Silvia Marini: Yes, good afternoon, I agree with my partner, it's great that we will now be known outside Italy. And Francesca was right: I like talking, so, get ready! (laughing) My passion for classic cars started in 2010 watching my father participating in classic car events whose passion started some years before me. The 2020 will be his 11th «Mille Miglia». With the time, my passion for the technical part of regularity rallies cars also arrived, in the spring of 2011 I had my first race. I was fortunate to get immediately the trust in using some important cars. Initially they were 1950s cars, then pre-war cars, a 1955 Ac Ace, a 1936 Riley Sprite, a 1920 Bugatti Diatto and finally the 1937 Aston Martin Speed Model, a car built to participate in the «24 Hours of Le Mans». About Brescia, yes, you paid close attention, it is well known as a cradle of automotive passion and classic regularity, in particular. In addition to «Mille Miglia», the true pride of the whole community, there is a widespread passion for the roar of engines that involves thousands of fans and Brescia is holding a variety of international regularity rallies. To say a few, «Coppa Mazzotti», «Coppa delle Alpi», «Summer Marathon», «Circuito della Fascia d'Oro», «Trofeo Dimmidisì», «Franciacorta Historic», «Trofeo Lumezzane», «Trofeo Valli Bresciane», «Trofeo Aido» and more. The «Mille Miglia» is then the most beautiful emotion for every regularity enthusiast and also the most important event of the year. Writing this text, I had a quick reading at the general ranking and in the top 40 teams overall at the 2019 «Mille Miglia» and I counted approximately 20 teams from Brescia. Four female teams from Brescia were participating in the race last year.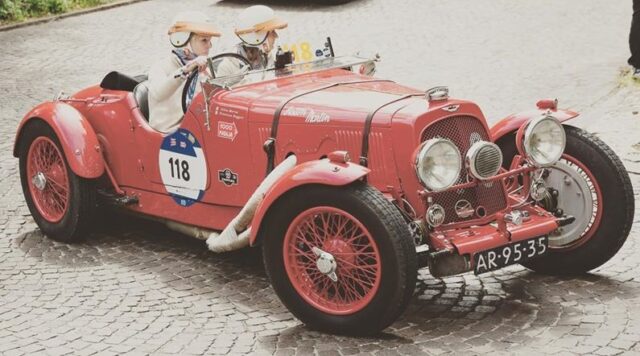 — Wow! What a detailed narration! We don't think we can follow every of the events, but some of them have already been covered by us. Yet, it's not about us, it is about you, ladies. Do you remember your first race? Which rally was it and what emotions did you get after taking part in it?
F.R.: Of course, I do! My first race was «Campagne e Cascine» (literally: «Villages and farmlands» – editor's note) in 2016. It is a race that is part of the Italian championship, taking place in Cremona area through the beautiful countryside! I have raced with my father and it was an unforgettable experience, I was a bit nervous at first but then really enjoyed every single moment of it.
S.M.: It was April 2011, the Franciacorta Historic, an international regularity race in Franciacorta, organised every year by the Vesco family. Franciacorta the famous Italian area located just steps from Brescia and Lake Iseo, is famous for its wine production, Franciacorta DOCG. I took part with a dear friend, Aurora (Aurora Fratus – editor's note), and for both of us was the first experience, we were driving a 1965 Porsche 911, the so-called «Series 0». Everything was new, including dealing with many rules of regularity sport. It was a beautiful first adventure with a classic car and a mix of emotions such as joy, fun and tiredness.
— Tell us, please, how did you meet each other and when did you come to the idea of riding together?
F.R.: I met Silvia thanks to a dear friend we have in common. We decided to attend some races together and since we got along very well we made up our minds to ride as a team at 2018 «Mille Miglia».
S.M.: Right, I'm just going to add a bit to Francesca's words. The friend's name was Enrico. In September 2017 I was talking to him and asked if he knew a good co-driver with passion for the regularity to suggest to me for the coming «Mille Miglia», and he gave me Francesca's number almost right away. We met a few days later at her house with her and her parents and it took just a few minutes to be ready to register for «Mille Miglia 2018» together, we were both very happy about that.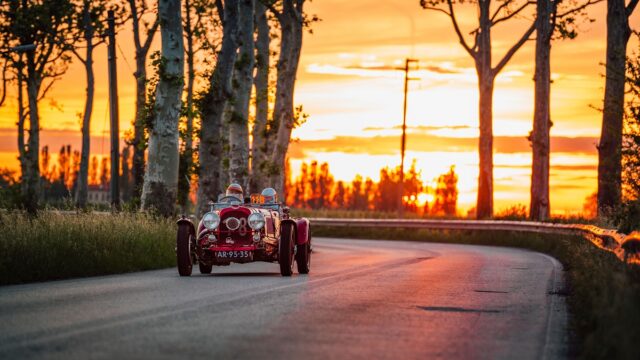 — This is amazing! It is another proof that good connections are important! And this is our next question. There are not so many female crews that come to the start line of «Mille Miglia». What, do you think, is the reason for this tendency and wouldn't you like to be a part of a mixed equipage as, say, Barbara Ruffini?
S.M.: I think it is mainly because facing four days of competition with about 1800 km of driving is seriously tiring but I think it is an increasingly «pink» «Mille Miglia» and I believe it has always been loved by women and attracted them but more alongside husbands or friends. I think, «Mille Miglia» has always fascinated the female public very much, probably because of the charm of dream cars, the goggles and the pilot's gloves, that particular look. I never thought about a mixed equipage or a different equipage because in the last years it was very good with Francesca, I would think of other possibilities just in case Francesca will be not available to race together and in sport the saying goes, «Do not change a winning team».
F.R.: I would agree with Silvia that «Mille Miglia» is a very long and tiring race so I believe these might be some of the reasons why there aren't many female crews attending. Anyway, I see that nowadays more and more women are getting curious about the classic cars world and because of this I'm sure that in the upcoming years we will see many more women teams attending «Mille Miglia». Regarding your second question, I usually race with my father so I'm used to be a part of a mixed equipage and in both cases I always have fun!
— In 2018 you crew got into the «Did Not Finish» list. Can you remember what prevented your Aston Martin from coming to the finish in Brescia?
F.R.: If I'm not mistaken, there was an issue with a part of the differential?
S.M.: That's right. It was the third day of race after lunch, the 2018 «Mille Miglia» was going very well for us as we were driving as first ladies team but suddenly a very unexpected issue to the differential occured and it was impossible to repair on the road and this didn't let us continuing the race.
— That's a real pity! Look, is it difficult to struggle with male crews or you know from the start that you cannot compete against them in the general classification and focus only on the local rivalry with female crews?
S.M.: In the first years we were more focused just on the female ranking but later the general ranking became also the goal. We try to face the events with the goal of growing results. The improvements were the result of more experience on the race fields and the experience of driving fairly complex cars that I have had the opportunity to drive in recent years. Starting from some simpler ones and then moving on to more difficult pre-war cars. Pre-war cars are known to have a much better coefficient and in the Mille Miglia the coefficient is extremely important for competing in the general classification.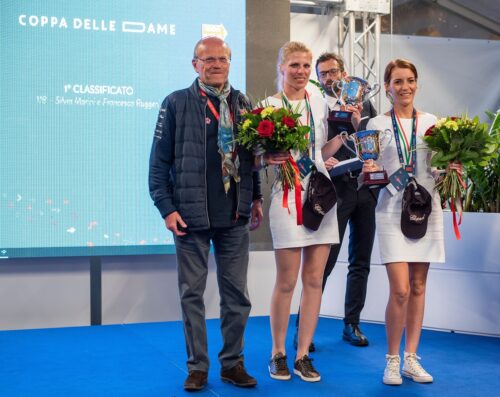 F.R.: I should pay a compliment to Silvia and say that she is a very talented pilot. I think that together we make a great team so I'm sure we can compete very well also against male crews! Last year at «Mille Miglia» we finished 34th in the general ranking and we are very satisfied with our results.
— There is still a separate rally for ladies only – Richard Mille's «Rallye des Princesses». What is your attitude to the event? Have you taken part in it or maybe are dreaming of going along the roads of France?
S.M.: I am personally very fascinated by Richard Mille's «Rallye des Princesses» which I have heard a lot about but, unfortunately, I never participated, I think, it will be a desire in the future.
F.R.: Yes, I have heard and read about «Rallye des Princesses», too, it would be one of my dream to attend it! It sounds very fascinating!
— Going across the protocols or rallies we often come across similar surnames, sometimes belonging to the people of one and the same family. As we know, you, Francesca, took part in «Wintermarathon» with your father, Mr Cesare Ruggeri. Who came up with the idea of making up your duo – you or him?
F.R.: We both decided to participate in «Wintermarathon» which is definitely one of my favourite car race. We have attended it for the third time this year. We are always waiting for this event to come and after the first edition in 2018 we decided we had to do it every year! We have amazing memories together, the views are breathtaking and we always have a lot of fun!
— And the similar question goes to you, Silvia, as there are often entries with the surname «Marini». Are they your relatives, by chance?
S.M.: Yes, you paid close attention (smiling). Regularity races involve many people of my family, my father Bruno Giorgio participated in 11 «Mille Miglia»: some editions with my elder brother Andrea and others with my younger brother Riccardo. «Mille Miglia» was for me the start of an adventure with an enormous consequence. In 2012 I met my boyfriend Rutger during a lunch at «Mille Miglia». A Dutch boy who was codriving his father John. Nowadays we live together between the Netherlands and Brescia and we have a daughter, Sofia who is 3 and she became an honourable member of the Club «Mille Miglia» 20 days after she was born.
— What an achievement! And we are sure it's a unique one! But we'll go back to Sofia a little later, now let's talk some more about «Wintermarathon». It is a special rally in terms of both weather conditions and event schedule with a late-night finish. Francesca, you have been there three times already. How difficult or easy for you is to ride on a winter track compared to a «summer» road?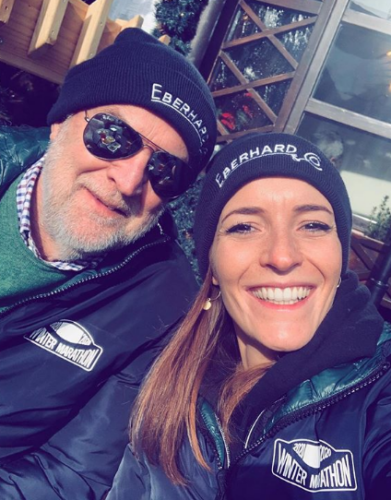 F.R.: From the co-pilot point of view I would say that you have to be very careful and precise with the roadbook reading but especially taking the correct time on the PC since most of the race is during the night in the dark and all PC are recorded through photocells so the contest of this race is something very unique and different from all other races we usually attend. «Wintermarathon» is a challenging and technical race, if there is snow and ice on the streets it can be fun but you always have to be very careful. My father is a well experienced driver and he always did great!
— And, Silvia, what do you think about such events? Have you participated yourself or maybe you had such intention?
S.M.: I think it is one of the most fascinating events after «Mille Miglia», a race with a long history through beautiful passes across Dolomites on the streets of the most picturesque, dangerous and snow-clad streets of our country. I participated in the «Wintermarathon» on a 1965 Porsche 911 in 2013 and on a 1963 Porsche 356 B in 2014 and 2016 and it was a unique experience.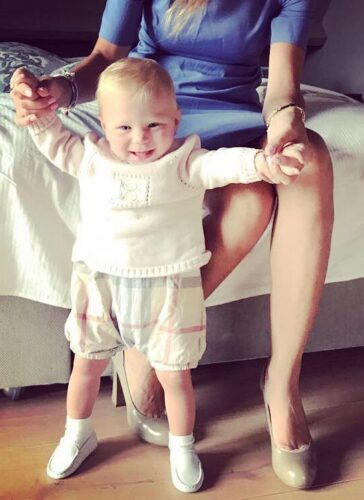 — Thank you very much. And one more question to you, going back to your daughter, Sofia. How do you manage to find time for preparing to rallies and taking part in them as long as you have a small child?
S.M.: In the past I participated in a variety of races, approximately 10 rallies per year. But since we have our small daughter I have selected 3-4 rallies per year, as my father, who is also very involved with rallies, and so other members of the family. Fortunately, my mom is very kind to support us in looking after Sofia during these days.
— It is so good that there is the support from relatives, both to you, Silvia, and to you, Francesca. By the way, don't worry, we remember about you. Tell us, please, about the following. We might have not gone so deeply into the history of your performances, but we thought you have been performing only as a co-pilot so far. Have you ever thought of driving by yourself?
F.R.: You are correct, so far I have always raced as a co-pilot but someday soon I would love to try and drive as a pilot as well, of course. I usually drive my classic cars for fun and it's a pleasure taking rides with my friends and family during the weekend. The best time ever!
— Alright, thank you. Dwelling upon the issue of drivers and co-pilots, we have to ask Silvia now. You have had at least three co-pilots for the last few years, including Francesca. How do you usually choose your partners and how easy do you get used to a new co-pilot?
S.M.: Yes, 9 years have passed from the first «Mille Miglia» and for different reasons I participated with different co-drivers. In most of the editions of the past I was choosing my partner just by picking a friend with a passion for cars to share the beautiful experience together. But in more recent time it became important for me to share the race with a co-driver with passion also for the technical part of regularity rallies, able to find the maximum concentration and serenity under pressure and ready to give together our best in the sections of special stages, keeping a calm climate and a great spirit of support to deal with the many rules of regularity sport and with the many hours driving in the car. All this is simpler when there is also a good friendship and with Francesca I found both.
— And our final question. Who can you name the favourites of the upcoming «Mille Miglia 2020» (in hopes that it will still be held in October)?
S.M.: Favorites amongst the drivers included many drivers from Brescia. (Last year 4 teams from Brescia were in the first 6 places in the general classification). It has been a very hard 2020 for my city Brescia as it was one of the largest area affected from Covid-19 and I will definitely cheer for Brescia teams.
F.R.: This is a very difficult question and I cannot choose! I would just say may the best team win!
Photo: Mille Miglia, Francesca Ruggeri (Instagram), Silvia Marini (Facebook)