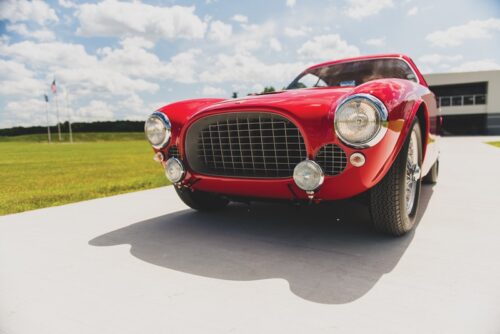 On October 23-24, RM Sotheby's auction house held a face-to-face auction in Elkhart, Indiana. Despite the difficult economic situation in the world associated with the ongoing global COVID-19 pandemic, the total auction sales reached $ 44.4 million.
Top sales were led by a 1952 Ferrari 225S Berlinetta Vigale, which went under the hammer for $ 2,810,000. The sold car took part in such races as «12 Hours of Casablanca» (2nd place), Monaco Grand Prix (4th place) and Mille Miglia (10th place in the main standings). Given the rich sporting history and limited production (a total of 21 cars were produced — ed.), The price is fully justified.
The second place, with a small, by the standards of the auction, lag is occupied by the «Italian» — Fiat 8v Supersonic from Ghia. One of 15 cars produced was sold for $ 2,040,000. The top three trades in Elkhart were closed by the 1957 Jaguar XKSS. One of the nine cars produced was purchased for $ 1985,000.
The top five also included a 1955 Cooper-Jaguar T38 MK II and a 1963 E-Type Lightweight in the two-day auction. Cooper-Jaguar became famous at one time not only thanks to the cooperation of two British manufacturers, but also a series of victories in races. In 1956-1957. the car has won six races at Goodwood and Silverstone. The E-Type Lightweight known as Car Zero was used as a promotional vehicle in North America and was also exhibited at the Jaguar Special Vehicle Operations booth as part of the Rolex Monterey Motorsports Reunion.
Following the auction, Kenneth Ahn, President and CEO of RM Sotheby's, shared his impressions of the auction:
"We are very pleased with the results, especially given the complexity and challenges of running such a high-profile multi-bidder auction in the current market environment. I believe this auction highlighted the key strengths and capabilities of RM Sotheby's as a global market leader in achieving successful results in the private collections sector. The Elkhart Collection auction has also provided another example of the effectiveness of «no-reserve» auctions, many of which have shown incredible results. The success of The Elkhart Collection complements previous auctions that sold cars that were confiscated by court order following the owner's bankruptcy. These included the 2016 Duemila Route in Milan, Italy, powered by the Italian government, and the auction for the elimination of the Level 5 Motorsports collection in Auburn, Indiana, in 2017, in collaboration with the US authorities. The auction also highlighted our company's ability to successfully carry out complex sales on a global scale. "
Donnie Gould, automotive expert at RM Sotheby's, added to Ahn's words:
"We are very pleased with the success of The Elkhart Collection. I am grateful to everyone who submitted the lots for entrusting us with offering this carefully selected, high quality collection of cars and memorabilia. It was a truly unique collection of exceptionally high quality, and we had almost 75 percent of bidders bidding over the phone or online who posted thousands of bids, with more than half of all bidders new to our company. I am proud of how our team members around the world have flawlessly handled these tenders. Overall, the results were exceptional, proving that the market for high quality collectible cars is alive and well in all price categories. «