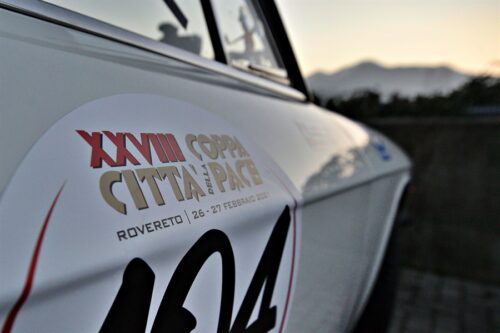 The second stage of the Italian Regularity Rally Championship took place last Saturday. The «Peace City Cup», as the name of the rally is literally translated from Italian — Coppa Citta della Pace, passed through a picturesque area near Rovereto, in Trentino, one of the Dolomites region. 100 crews out of 105 announced, including 7, presented in the «Modern car» category (Vetturo Moderne), went to the start.
Luca Patron and Steve Clarkrepresenting the Scuderia Classic, celebrated the victory in the overall classic vehicle classification in a 1931 Fiat 514 Mille Miglia. They were just 10.5 points ahead of the championship leaders and the winners of the first stage, Coppa Giulietta e Romeo, Alberto and Giuseppe Scapolo from the Nettuno Bolognia team behind the wheel of a 1937 Fiat 508C. It is worth noting that this difference was formed precisely as a result of assigning a higher coefficient to the car of Patron and Clark due to an earlier year of production. If we take «pure» penalty points, then both crews had 175 of them, which indicates the fierce nature of the struggle on the track.
After the 8th special stage, the triumphant crew took the lead, followed by Andrea Belometti and Catarina Vagliani in a Fiat 508C, who were 5 penalty points behind at the time. At the next intermediate mark in Fiera di Riva, Alberto and Giuseppe Scapolo climbed to the first line, having managed to overtake the crew of Patron and Clark by only 2 penalty points. Further in Cavedino, Luca and Steve regained the lead and did not lose it until the very finish. As a result, as mentioned above, they were ahead of the Scapolo duo by 10.5 points, while Alberto Aliverti and Giacomo Lamperti came third, having a gap of 36.53 points behind the winners.
As for the overall standings of the Italian Championship, after two stages Alberto and Giuseppe Scapolo continue to lead thanks to the victory in Bardolino and the second rank in Rovereto. The other two crews from the Coppa Citta della Pace prize-winning trio scored 58 points each and share the 2nd and 3rd places in the general classification of the 2021 season. Last year's winners of the stage in Trentino, Guido Barcella and Ombretta Ghidotti, showed the 8th result on Saturday and were able to gain a foothold in the 5th position in the championship standings, securing a 12-point lead over the crew of Andrea Belometti and Catarina Vagliani.