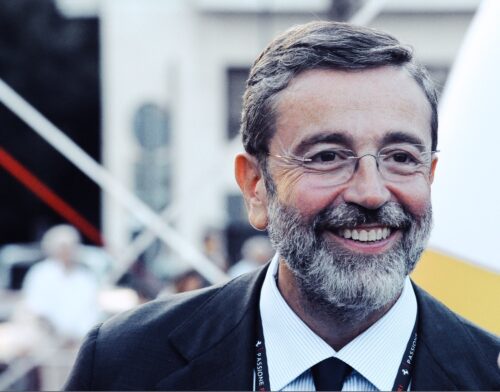 Love for retro cars unites people of different generations and professions, but there are those who made it their job. A great example is Angelo Pizzuto, President of the Palermo Automobile Club. Not only does he organize rallies, but also takes part in them from time to time in order, as he himself says, «to meet new people and exchange experience.» We could not help but take the chance and talk with him about the organization of the rally for two hundred crews, the difficulties at work and the way he met Giovanni Moceri.
-It's no secret that Italy can be called the center of the retro-rally movement in Europe. Tell our readers about the structure of the Italian Historic Cars Club and its mission.
-The Italian Historic Car Club, called ACI STORICO, is an important entity strongly wanted by ACI in order to protect and value the vintage car system in Italy. During the past several years, the club has acquired many new members, also increasing the number of vintage cars events where always more and more people are participating.
In Sicily, we have the Targa Florio that, being the oldest and more famous car race in the world, is certainly incentive for people to join and experience the historic car race world.
-How many years have you been the head of the Palermo Historic Cars Club? And what changes have occurred during your presidency?
-This is my 8th year as head of ACI Palermo. I have been honored to lead a great group of people very competent, but mostly very passionate about historic cars. Over the last ten years thing have changed for the better, with increase of the number of club members and possibilities of going around all cities and counties talking about the history of cars, creating stronger awareness about our history, culture and passion.
-Could you dwell upon your responsibilities in the Club, please?
-I am the president of the Club, which entitles a great honor but also great responsibilities. In fact, the club is not only dealing with the sport and race of vintage and modern cars, but it is a state entity for all automotive bureaucracy — from the sales and purchases of vehicles to registrations, tax payment and all you may need related to the system.
-What is the most difficult part of your job?
-It is always to try to accommodate everybody, because it's right that the needs of everybody become our priority. The vintage car world often could be difficult, hard, and we try to give our members adequate assistance to develop a working and satisfying system.
-How many events does your club organize during the season? Which one is the most difficult from an organizational point of view?
-We organize about 10 car races and some other touristic events, which involve thousands of people. The most difficult are certainly the two versions of Targa Florio, the modern rally version taking place in May with about 180 rally cars, and the Classic version in October with about 220 cars. It is a big logistic effort, especially with about 70 teams coming from abroad, but we are confident that every year we are always better at doing a good job.
-What does taking part in rallies give you as an organizer and a participant?
-I do this only in Targa Florio Classica, which is relatively a safe race without no immediate danger, so I can try to race and perform some task at the same time. Other races, like the Targa Florio Rally, are very dangerous and request my full attention, so I stay focused on every aspect of it and don't race in it. Never. To guarantee the safety of our pilots and our public is my first priority.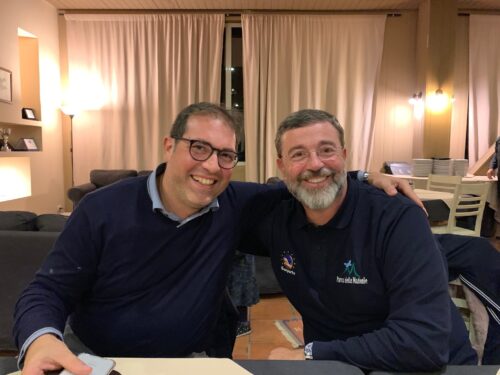 -This year, in addition to Targa Florio, where your partner was Anita Sorano, you participated in two rallies with Giovanni Mocheri (Trofeo Cave di Cusa, Gran Premio Nuvolari). How did you meet them?
-Anita is a long-time friend who has a passion for history and culture of Sicily. And seeing our land from a vintage car is always a fantastic experience. She is also a very good co-driver, hopefully we will race together again. Giovanni Moceri is the «Maetro» as we call him in Italy, he is the master of this type of sports. We met a few years ago at Targa Florio and since then we have developed a strong partnership but, most of all, a strong friendship. Him and his wife Valeria are two marvellous people, it is a pleasure being with them.
-You once said that you have several cars in your collection besides the Alfa Romeo Spider. Could you tell us about them?
-I like to collect cars over the last 30 years, as well as my father did. Currently I also own an MG J3 of 1933, a Lancia Fulvia 1,3 S from 1972 and a Fiat 132 Speciale from 1973
-In 2019, the Italian National Olympic Committee presented you with a bronze star for sporting achievements. What did this mean to you?
-For me this was a great honor, because the Olympic Committee recognized my long-term commitment for the historic and modern motoring system. I am very proud because this gives me a momentum to continue and pursue new objectives in this field.
-You lived in the United States for quite a long time. Did you take part in any retro-events there, if so, which ones?
-I did not directly participate in car racing back then, but I followed a lot of race cars. Sebring, Laguna Seca and other circuits are very important to this sport and it is always good to know how to manage it from other experiences. And they have some different kind of motor racing, like NASCAR, mostly unknown in Europe but very hard and aggressive. It was a very interesting experience where I learned a lot of information that contribute to form my current knowledge of this sector.
-Last year your Fiat 501 (1922) was voted the best in the «Gioielli a 4 ruote» («Jewel on 4 Wheels») competition organized by the Historic Club Castrovillari. How often do you take part in such events?
-I try to go to as many events as possible in order to meet people and exchange our experience. It is a good way to grow and to understand how much it is out there that still needs to be known in this world of historic cars.