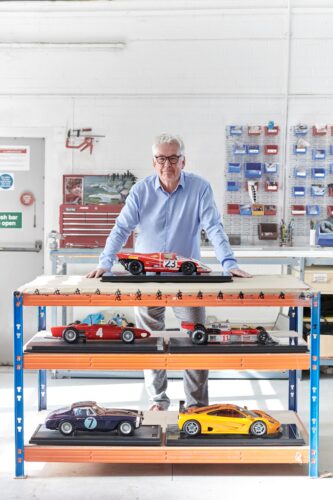 Some people collect vintage cars, some collect railway models or art objects, but there are those who hunt for hand-assembled car models. One of the companies specializing in such models is Amalgam Collection. AutoClassicNews spoke with founder Sandy Kopeman about technology development, partnership with Ferrari and future projects.
-Your company's divisions are located in three countries: England, Hungary, China. Why did you choose its? Why did you choose these three countries?
-Our HQ and a special projects workshop is still located in Bristol the 'capital' of the South West region of England and a historic home to innovation in engineering and aircraft building.
We opened a small factory in China in 2005 which was developed and run by my sone Leo who is still our technical director. Cost was clearly a factor, and the move allowed us to make GT and Classic models that require many more hours to build than an F1 car. The major reason for choosing South Eastern China is the quality and range of specialist suppliers available to us. It's unique in the world.
We created our workshop in Hungary in order to have a production base in Europe and partly as a response to Brexit so that we could sell freely into Europe. The city of Pecs has been incredibly supportive to us, and the location we have is stunningly beautiful, placed as it is in the heart of one of Europe's historically significant art porcelain manufacturers, Zsolnay.
-What is the cost of your car models? Is there any «technical support» after the purchase if something happens during its operation?
-Our 1:8 models start at around $9k USD and we are always available to repair models that are damaged for whatever reason. Unless the damage is very extensive we can usually bring a damaged model back to it original perfect condition.
-Since the foundation of your company more than 25 years ago, how has the technology / process of creating models changed during this time?
-Surprisingly not very much! Prior to starting to make F1 car models, the majority of our work was for world renowned architects and product designers, and we were using cutting edge technologies that we transplanted into the car modelmaking process. We were already using 3D printing and sophisticated casting techniques for product prototypes and we simply applied that technology to creating model car parts. We have increased our usage of 3D printing over the years but we have not introduced any different technologies. We have however continued to refine and improve all the technologies we employ.
-Auctions often include models of different companies as well as cars. Would you conduct such auctions?
-It's rare for us to bring models to auction as we have so little stock of anything. Whenever we make a small batch of a long running model such as the 250 GTO or Bugatti 35, they are pre-ordered before we have finished the batch. We are considering creating a platform on our website where owners can bring their models for resale with the guarantee to the buyer that they have been restored to original condition in our workshops.
-You create not only models of cars, but also yachts and planes. Which of these fields are more interesting to you personally and why?
-Aircraft are my passion. I am personally most excited by machines of the era when speed was being explored and developed in the 1930s through to the 1960s. The passion for finding the limits of speed and endurance of cars and planes runs parallel through those decades. The pilots and drivers were close to superhuman in strength, and possessed of great courage and skill. The Schneider Trophy seaplanes are superb feats of engineering creativity, going from speeds of 46 mph in 1913, and reaching 340 mph in 1931 just 18 years later. For extreme ingenuity ahead of its time check out the Piaggio P.7 'Pegna'. These were the F1 cars of their era.
-Since 2006 your company cooperates with Ferrari, could you tell us how it started? How did the cooperation with the brand begin?
-Actually our collaboration with Ferrari started in 1998 when I visited Maranello to propose that we model their F1 car for use inside Ferrari and as a display item for sponsors. Luca di Montezemolo was immediately a huge fan of our 1:8 scale models and regularly used them for gifting to VIPs. We soon started selling to collectors as well, when the golden years of Ferrari and Schumacher dominance started in 2000. Montezemolo pushed for us to make the GT cars and Classics and so we started with the F430 in 2005 and have modelled every new GT and race Ferrari since.
-This year your company launched its IndyCar collection. What other racing series would you be interested in and why?
-We have built our reputation and sales into the USA over the last 10 years and have wanted to get involved in a major US series for at least that long. Zak Brown suggested to me that INDYCAR was the best choice, and of course there is a massive and rich history to explore in due course. As an example of the extremity of the cars and the drivers check out the Indy 500 in 1955. These guys were true gladiators.
We continue to get deeper into Formula E, but apart from that our most significant target is to create more Le Mans cars especially with the new LMH cars starting this year. Our Ferrari 499P will be launched around September this year, and it will be a truly extraordinary model.
-The three most beautiful cars in your company's history?
-Difficult because there are a lot of them, but this is my choice:
Bugatti 57SC

Ferrari 250 GTO

Ferrari 250 TR
Oh yes and the Bizzarrini 5300 GT as a bonus car!