During retro-rallies and auctions all the attention is normally on the car owners and participants, but these are photographers who give us a chance to see incredible wins and tears of joy, happiness or upset. They always stay in the shadows, but thanks to them we all can feel as guests at those life-fests. And one of them is a guest of our edition today – Remi Dargegen, so here is the interview with this talented person.
— Our greetings to you, Remi! We are endlessly grateful that you have managed to find time and answer our questions. As we know, your career in the world of automobiles started with a position in an advertising and marketing department in a French car-manufacturing company. Why did you suddenly decide to switch exactly for photography?
— Good afternoon, pleased to meet you! Actually, yes, you are right, it was 8 1/2 years I was working for «Peugeot France», and I was fed up with the strategy, or more exactly the non-strategy of the brand, only thinking profitability, without any idea they were selling cars, a product with emotions, and not diapers or yoghurts. A product that has to make people dream. So, after a last big disappointment, a friend of mine, who is also a photographer, gave me the kick in the ass I needed to make the big jump and start from almost nothing.
— When giving an interview to «Classic Driver» you told that your father used to take photo portraits, and of you, in particular. Can we say that the choice of your career was determined by «family traditions»?
— Well, no, my father didn't take pictures. He had a good camera for the time, a Canon AE-1, and took random family or holidays pictures. It wasn't a passion for him, but as he had a good camera and very good lenses (that I still have today), he took some nice portraits on my sister and I when we were kids!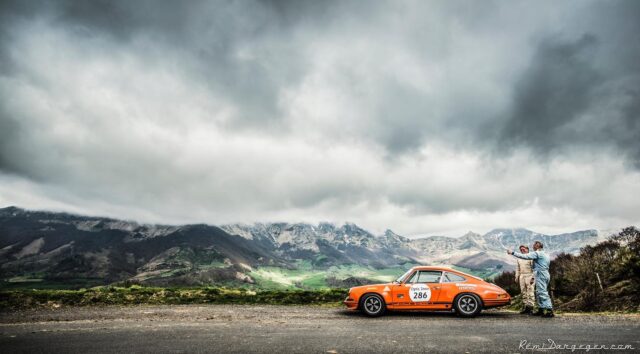 — Your pictures can be seen not only in many professional editions but in social media as well. Could you imagine having such a success when you started your career of a photographer?
— (Smiling) Definitely not! But, well, what is the definition of «success»? Being famous on Instagram or Facebook is like being right when playing «Monopoly». My best achievement is being able to live from my passion today. That's a real luxury!
— Exactly! By the way, speaking about popularity. You are always, literally, behind the scenes as your occupation demands it. But still you, being a media person, attract a lot of attention. What is your attitude to the interest that is shown to your personality?
— Indeed. I'm not really a public person. I'm a bit wild, shy, and reserved. I don't see the point of showing my face, and I don't like it that much. I prefer to stay discreet, behind my camera! My pictures are famous, not me. I'm happy when my pictures create emotions, positive or negative, and for sure I'm happy to observe people reactions, to see that they like the pictures and share them. It's always a nice reward to see their reactions.
— Can you remember when you received your first commercial offer as a photographer to shoot at a certain event? What was the company that actually became a «link» to your work as a professional?
— Sure! Well, I already did a few shootings for «Artcurial Motorcars», but the first event I covered was for «Classic Driver», and it was my first «Tour Auto», in 2014. Without knowing anybody at CD, I sent them an email, and they answered «yes» directly. That was the beginning of a great collaboration!
— Is there any competition between photographers for the attention from outside or is it the principle of «common interests» which works here?
— There might be a sort of competition, but I don't really care. For me, as there's an artistic dimension, we're not competitors, but colleagues, as some people will prefer this photographer or this other one. Each of us has his own customers and network, for there are common customers between us, but there's space for everybody. If everybody respects a certain philosophy, it's doing well.
— A well-known photographer Jean Daniel Lorieux once was asked about the best picture he has made so far and answered that he hasn't got it yet. And do you have a photo that you can honestly consider the best one in your collection?
— The best? Hm… It's a very subjective question. For sure some pictures will follow me for my whole life. I don't know if they're the best. Some are spectacular, some are iconic. But I still have many dreams, thanks God, and I hope some pictures of the future shooting will last in people's minds for a long time!
— You shoot at a plenty of events which have almost the same «contents» from year to year. How do you struggle with such issue as «eyes blurring» or you never experience it?
— (Smiling) Of course, I do! It's never easy! But the major events are never a deception, as they always gather a wonderful selection of cars. And for rallies like the «Tour Auto», these are some amazing roadbooks through mind-blowing landscapes.
— You have once said that someday you realized that you were tired to keep working on a firm anymore which led to what you do now. But did you have a moment when you thought «That's enough of photography. I'm tired!»?
— N-n-nope! (Laughing)
— Well, yes, we couldn't expect a different reply! Let's now focus on rallies for a bit more. Almost all the time you take pictures of cars and yet 2 years ago you decided to take part in a retro-rally as a pilot. What were your emotions afterwards and would you like to re-experience it?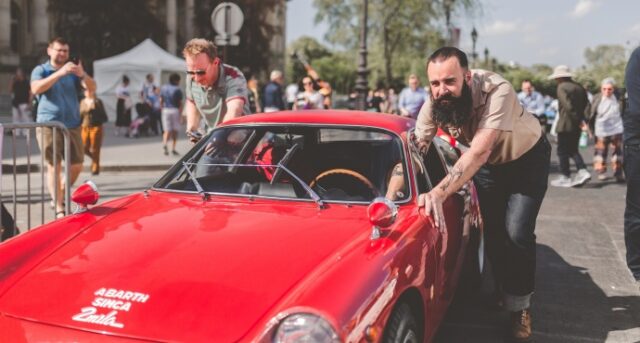 — Oh! Yes! (Laughing) An experience I'll never forget! It was a wonderful week, in an amazing car! We had some little issues, like one issue per day, but it's part of the fun of such a week! And when you cross the finish line on the Saturday evening, you just say «F***! It's already over!». So yes, I would love to do it again, if possible, in such an unusual and iconic car! Racing is life, right?
— We'd rather agree for we are those who write about it. Speaking about a rally, it is impossible not to touch upon the legendary «Mille Miglia» that is considered to be the world's most picturesque road race. Do you usually prepare to shoot there in some special way or is it just a regular job as many others?
— No, there's no specific preparation, except technical: all my gear ready, my rain clothes (very important at «Mille Miglia»), and that's it. Then you just follow the race and live the week at your own rhythm.
— One more thing considering this classic cars rally. The number of the crews participating in «Mille Miglia» is normally around 400. So, is it better for you as a photographer to take pictures of as many of them as possible or do you prefer to focus on the quality rather than the quantity?
— No, I will always focus on quality, rather than quantity. But for sure, at the end of such a week, you finish with a few thousands of pictures! (smiling)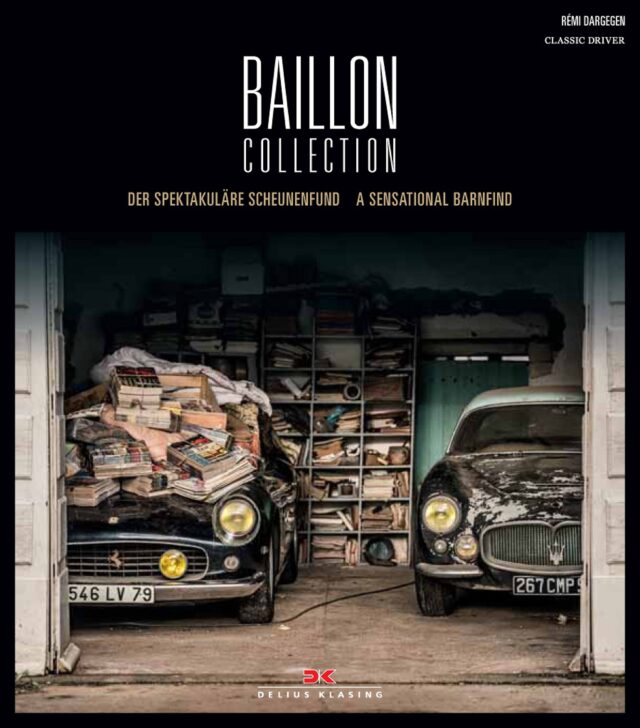 — In 2015 you published a book named «Amazing barnfind». Can you tell a bit more about it? Is it a photobook or there are some author's commentaries in their traditional printed version?
— Sure! That's a book about the truly amazing barnfind «Baillon Collection» (on the photo on the left – editor's note) sold at an auction by «Artcurial Motorcars» in February 2015. So, there are a few words from Jan Baedeker, the Editor-in-chief at «Classic Driver», a few words from me, but it's mostly a photo book, yes.
— Have you ever thought of publishing a book in its commonly accepted form? Say, memoires or an advisor like «Photography for dummies»?
— Well, I don't have the intention, not the knowledge or the skills to make a book about photo advice. But I have a more personal photo book in mind. Let's see when I'll be able to publish it!
— For many people photography is a hobby, but you earn your living with it. But do you have any hobbies to spend your free time on?
— Yes, I do classic cars! Jokes apart, I can't complain as my job is my passion and my passion is my job. But otherwise, I run a lot. More a hobby than a passion, even if it takes more and more space in my life!
— You have an unusual tattoo «Bugatti Type 35 Grand Prix». What is the story behind it?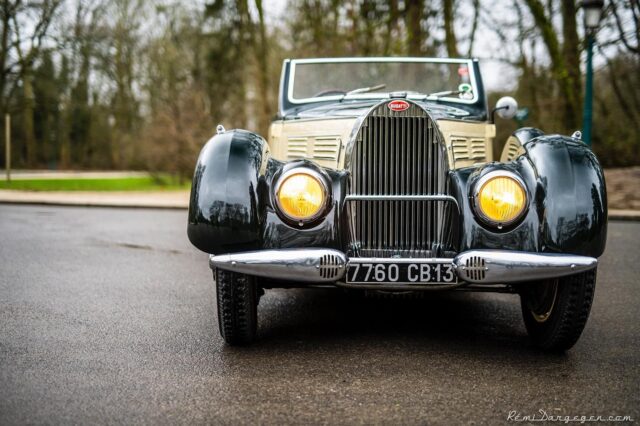 — Actually, that's my very first tattoo! I wanted the famous sentence of Steve McQueen, and a friend of mine, who's a tattoo artist, told me «OK, but just text is boring. Let's imagine something around it, a car maybe?». And I told him «OK, but if you want to include a car, it has to be a Bugatti Grand Prix!» That's the story behind it. Almost all my tattoos have a story. Except one or two that I made just for fun.
— And, of course, we can't help giving in to the temptation and not asking you about our country. Have you ever been to Russia? And if not – would you like to visit it one day: on business or as a tourist?
— Nope, never been to Russia! But it seems fascinating for many reasons and many aspects! So, yes, for sure, why not coming one day, and maybe combine work and tourism!
Photo: Remi Dargegen, Amazon, Twitter RM Sotheby's
Cover: Classic Driver