Retro-rally «1000 Miglia» is the most picturesque road race in the world crossing Italy, which is why the retro-automobile enthusiasts from this country were happy when the trophy came back to the «home soil». Giovanni Moceri and Daniele Bonetti celebrated their first ever success in 2019 having swapped with the 2018 triumphants from Argentina – Juan Tonconogy and Barbara Ruffini. The impressions of the defending champions – in the interview on AutoClassicNews.
— Good afternoon, Mr Moceri, Mr Bonetti! Thank you for finding time for us and agreeing to answer our questions. The first one is connected with your historical win which was also the debut victory on «Mille Miglia» for you. What were your emotions when you received the main award?
Giovanni Moceri: Good afternoon! Yes, thank you for your congratulations. You know, we have had a very hard work to achieve this victory. And here we have to especially highlight our car, Alfa Romeo 6C 1500 Super Sport by FCA Heritage Museum that provided it to us. All the team has worked perfectly which helped us to feel secure through the whole distance of nearly 1800 km. Daniele and I are happy to have managed to bring this important victory to the Alfa Romeo Heritage Museum, because they have had a strong faith in us in the last few years.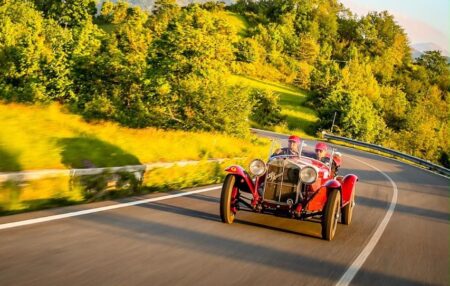 Daniele Bonetti: Yes, we are happy to have such a great result. In the last years we've won all the most important races in Italy: «Targa Florio», «Giro di Sicilia», «Gran Premio Nuvolari», «Coppa d'Oro delle Dolomiti» and «Stella Alpina». All we needed was «Mille Miglia» and now we are very-very proud.
— As far as we understand, both of you, being a journalist and a pediatrician, consider retro-rallies as a hobby. How did it all start?
D.B.: With me it is actually connected with my profession. In 2003 I had a work for my newspaper at Wintermarathon. It was beautiful and in the following years I wrote about «Mille Miglia» for «Bresciaoggi». I love this race so much.
G.M.: My passion started long ago when I was 18. In my hometown races were held very often and people followed them very carefully, including me. I was very carried away by autosport and I was extremely happy when I bought my first car and could take part in local races. Driving and fighting for every thousandth of a second was something special in my life. And then I found my passion for retro-rallies and everything connected with that world.
— By the way, speaking about your hometowns. You, Mr Moceri, live in Palermo and your partner is from Brescia, as far as we know. How did you manage to get in touch first?
G.M.: I got to know Daniele 10 years ago when he interviewed me for the newspaper. It was nice to learn that we had a common interest in «the Red Arrow» (the folk name for «Mille Miglia» and the symbol of the rally – editor's note) and retro-automobiles. In the course of time we came across one another at various events and now our friendship spreads far beyond a seat in a vehicle.
D.B.: Yes, it happened in 2009. We were introduced by Giuliano Canè (10-times rally winner – editor's note) at the end of that «Mille Miglia». We became friends and we have lots in commons since then. Our first race together was in Lumezzane with Alfa Romeo GT Junior. Ten years after, Giovanni is like a brother to me.
— That is great! No doubt it played its role in your victory. But you weren't leading for the whole race. When did you come to realize that the first place is yours?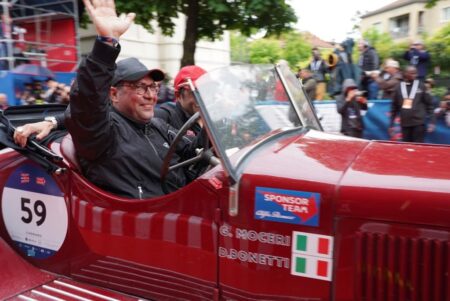 G.M.: You know, at such rallies as «Mille Miglia» the struggle goes on until last kilometer. You can never guess what result you will get, considering you have such strong opponents as Tonconogy/Ruffini and Vesco/Guerini. We were moving along the course with a clear understanding that we had successfully passed all the pre-race tests and I considered myself the greatest rival. But then I calmed down and tried to focus on every next regularity. In 2019 the course was a bit more technical and unexpected, so there was no room for relaxing. I have to note that the gap between our duo and Vesco/Guerini had been varying through the whole rally and Tonconogy/Ruffini actually lost due to a low car coefficient.
D.B.: I should be totally agree with Giovanni and say that the struggle on «Mille Miglia» is really severe until the last gasp. So, I think, we realized the possibility of our victory in Brescia, on the way back. We had a good gap in Bologna but we knew that the last stage could be difficult. Thanks to our Alfa Romeo for those excellent days.
— Andrea Vesco and Andrea Guerini said that Juan Tonconogy and Barbara Ruffini and your crew were their greatest rivals. And who were those you wanted to beat in the first place?
D.B.: Actually, I can mention the same names — Andrea Vesco and Andrea Guerini, Juan Tonconogy and Barbara Ruffini. The last year's podium.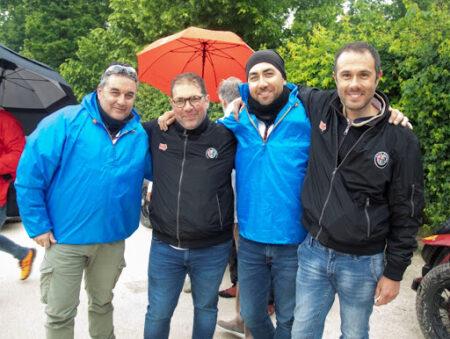 G.M.: Completely agree here. In the last 2 years there were the same duos in TOP-3 but in different order and there is a reason for that. All the crews that were in the podium triple, besides us, are strong competitors. So, when you struggle such high-class duos you can never guess where you end up at this or that event. Before «Mille Miglia» 2019 there was only one difference between our opponents and ourselves, that is, they have already won the rally and we have not. I think, now all the three crews will be trying to reach the record of my mentor, Giuliano Canè, who won «MM» ten times, but I don't believe it will be possible to ever beat it.
Photo: Mille Miglia Twitter, Sports Car Digest, Bresciaoggi, Kaleidosweb