Our project has already managed to communicate with the participants of multi-day rallies, but modern competitions cannot be imagined without those who convey their spirit, beauty and emotions of the ones at wheel. We are talking about photographers who, as you know, are in the shadow 99% of the time and come out of it in the way of a caption to the pictures. Today our guest will be Francesco Rastrelli, the founder of Blue Passion Photo, who spoke about his work and tandem with his wife, Roberta Rocatti.
— Good afternoon, signor Rastrelli! Thank you so much that you have agreed to answer our questions. And here is the first one. We have learnt about you from your shots made at multiple-day rallies. How do you usually prepare for them and what attracts you in them?
— Good afternoon! It is my pleasure to be here with you and take part in the activity of your project. As far as your question is concerned, I have to say that the preparation of the rally is one of Roberta's tasks and it's a very important part of our job. She works on the printed maps following all the route on Google Street View and marking down on them all the notes about the good spots, then she reports the coordinates and the notes on a time schedule and checks which of the media crews (we are usually two teams, 1 photographer and 1 videomaker for each), can reach the different places and when, so she can then give us the daily "to do list" and that's why we call her The Boss! It's quite a long process, it takes one day for each day of rally. When she finds good spots for me to fly the drone, I usually check the flight permits for the areas.
Probably the most hated part of the preparation is packing the luggage: it takes a whole day. Roberta chooses the clothes for any weather condition and for the final gala dinner in black tie; I clean, charge and pack all the technical equipment.
Multiple-day rallies are interesting because you can tell the story of the event in pictures, not just take good single shots. You have different places, several weather conditions, more things can happen to car and crews, even if, of course, they are quite tiring.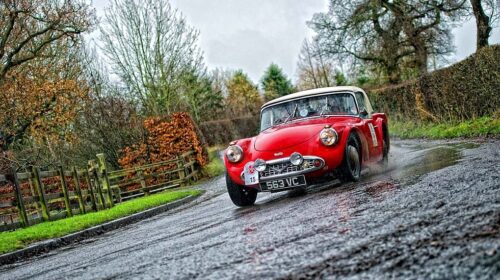 ­­— Thank you for the detailed answer. And what is the process of collaboration between rally's board panel and photographers? Do they hire you or do you take the first step and offer yourselves as candidates?
— Since 2010 we are the official photographers of Hero Events, probably the most important rally organization in Europe; one of the owners met us working for him on a classic yacht and he liked our passionate and unconventional style, so he told us he thought "we were crazy enough to join Hero on the most tough event in Europe, Lejog Rally". The staff liked that our aim is always tell the story of the event, rather than just take pictures for the participants, so they could really have good stuff for communication, promotion and press. It seems they are still quite happy after 10 years…
So far, the word of mouth and our published pictures have been our best photo agents so we are usually called by the Organisation of other events for a quote. Sometimes we have sent offers to the Board for new events.
— And what is more important for you to shoot at rallies, besides the tasks from organizers (if there are any): the story, emotions or sneaks from behind the scenes?
— The answer is "everything" and that's one of the challenging parts of the job, that has to be really comprehensive in any aspect and so you have to be always focused through the whole day. We have to shoot all the cars on the road and their details, the locations and the landscapes, the crews and the emotions, the social moments during the day and the formal events in the evenings, the feedback for the sponsors, the staff, sneaks from behind the scenes… So, you have to be both artistic and pragmatic at the same time but, luckily, Roberta and I have a really a good combination of both as a team working together.
— Great, thank you for the answer! Francesco, you have many multiple-day rallies behind your back. Which one can you name the most memorable and why?
— Without any doubt, the first Lejog in 2010, "the Snowy One". Lejog is a rally in December from Land's End to John O'Groats, so it covers all UK in 3 days, with a last 23 hours driving day through the Scotland mostly at night so it's really-really tough. 5.000 miles, few hours' sleep, hard navigation, tests. In 2010 the weather conditions were really severe, road closed, storms, snow, frozen fords: I remember a dinner halt in a service station when we had to count ourselves to find out who have been lost on the way… but the emotions on the Finish line were overwhelming for everybody: we really had the feeling we did something epic!
— Not surprising, considering such an adventure… By the way, what was the longest retro-rally that you had work at?
— Before Hero merged with ERA, it was the London to Lisbon rally: 12 days through U.K., France, Portugal and Spain. Because ERA is the leading specialist in long events (such as the well-known Peking to Paris) we had our first experience in this kind of "very multiple-day" rallies earlier this year, when we headed to New Zealand for the NZ Classic: 23 days from the North to the South Island.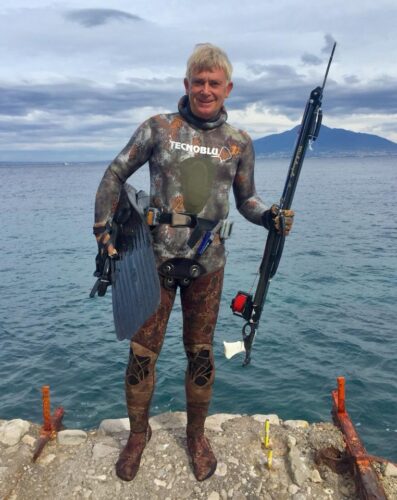 — Sounds very exhausting! That is why we cannot help asking if you have moments when you get tired of photographing. If yes, how do you normally relax?
— Basically, everything in my life is photography linked and we normally don't relax … but my day off without a camera is underwater for 8 hours of speargun fishing. The other very rare activity is resting at our pleasant home in Sorrento, with telephones and computers switched off, enjoying the sun in the garden or a motorbike ride on the Amalfi Coast.
— It even sounds very peaceful. But we still have to get back to your job. While reading daily reports from rallies we learn many details about «a day of participants». And can you tell us what a typical «day of photographers» looks like?
— Oh, it's a very long day. Every evening Roberta checks the time needed to reach the first spot from the hotel and gives us the "start time", usually 20 minutes before the first car is out, so the wake up is quite early. We try to follow our Day schedule and to visit the tests, the regularity sections, the lunch halts marked on it. Usually on the road we stop in a place to shoot not more than 5 cars and then we move on to the next spot, so it's really a run against the time, trying to get shots of all the cars and in all the good places. Very often we skip lunch because we take advantage of the time spent by the crews at the lunch halts to make up for lost time and begin the afternoon session before the cars restart. We are the last to get back to the hotel, where I usually spend some time around cars and mechanics for details, people portraits, etc. while Roberta keeps downloading the daily photos. A quick dinner with some shots to the people and then, about 10 pm, when everybody finally has some rest, we start our second part of the daily job: the postproduction. I clean and charge all the cameras and I work on the drone footages. Roberta views all the photos (about 1.500), makes the choice and edit about 100 photos and send them to the Media Coordinator to be sent to the magazines, published with the daily report on the website and on the social media. Then she makes the plans for the day after and about 3 a.m. she goes to sleep, while I'm already snoring since some hours… and the alarm rings very soon again. The lack of sleep and the long days spent outside in the cold, rain and wind, or under a scorching sun make a big difference in multiple day events.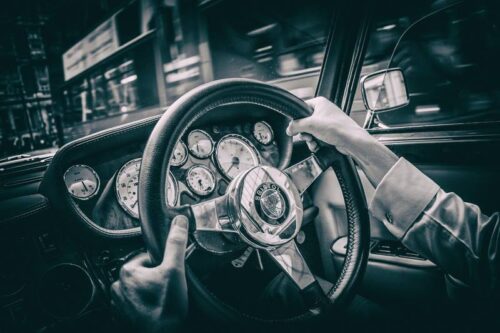 — Do you have your own vintage car? Would you like to change a camera for a steering wheel and take part in a rally yourself?
— Yes, I do. A 1969 Fiat Bianchina Giardinetta was my mum's car since I was 5 years old and it became my «partner in crime» when I was 17 years old: I drove it without a driving license, got chased by the police, I took 12 friends in it for a tour of the Amalfi Coast and, most of all, it was my "hunting transportation" for fish and women…. Used as a toy house by the family, and as doghouse by the dogs, over the last few years it was just taking a nap in our courtyard in Sorrento, dreaming about its former glory but, even if unused, I would have never sold it because it was still part of the family. When our dearest friend on a summer visit fell in love with it and wanted to buy it, restore it, and bring it to London, I thought it was the best way to give it a brilliant future, being anyway part of the family every time I am in UK. So, keep your eyes open: if you see an Italian tiny bullet in London, you can be sure the Crazy Rastelli's and their Bianchina are in town!
We'd like to have a classic car (the Amalfi Coast is perfect for an Italian roadster) but we probably wouldn't have the time to enjoy it… Roberta really loves the blue Renault Alpine so someday… Very often we think to take part in a rally, I would be the driver and Roberta the navigator but I am sure we would bring a camera with us anyway!
— How many events per season do you usually take every season if we speak about retro-rallies?
— About 10 -12, usually not on August and January.
— Your official website states that you had been taking photos of yachts for several years and then you decided to add cars to the list of your work fields. Can you tell us what attracts you in both of these?
— Well, the yachts took us to the cars and they have a lot in common. First of all, they are both classic and this tells a lot about what we like: they are not only beautiful things, they have a soul and a history, to be told also by pictures: stories about restorations, the owners, their use through the years. In both cases, we like to shoot sport events, regattas and rallies, in a communicational and dynamic way. I come from Sorrento, so I was born by the sea and for me it's natural to love everything linked to it; Roberta is more passionate about cars because she comes from Turin, the Italian town of Fiat.
— By the way, where does this unusual name come from? Is it somehow connected with sea and water in general?
— The Passion moves everything we do, and what I love more has a Blue color: the sea and Roberta's eyes…
— Do you remember your first deal you were paid for? Who was the client and what did you have to shoot?
— I started my career as underwater photographer, so my first job was to take some underwater shots for the advertising campaign of a jewels brand.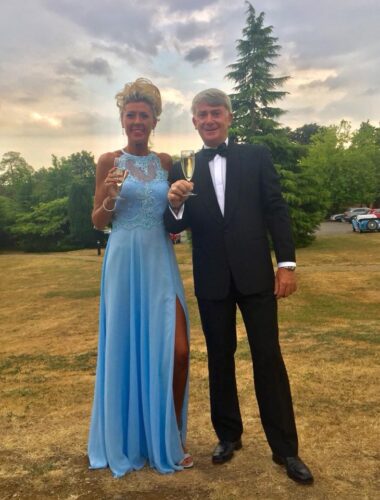 — Tell us, please, the story of your family business? Had Roberta been working as a photographer before you met or it is you who got her into this sphere?
— I started my career as graphic designer and art director in international advertising company: I lived in London, Milan and Rome since I came back in Naples to found my own advertising business. In the meanwhile, the underwater photography was just a passion but I won several photo contests and I published my first book. I was of course involved in shootings for advertising campaigns and I started doing them on my own, since the activity as photographer became the most of my job. I made "the big jump" when I was offered to be the official photographer of what was called "The Refit of the Century", the restoration of the classic yacht Lulworth, that gave me a worldwide fame and was the beginning of my work as yachting photographer. Few years later, in 2006, I met Roberta, that was a lawyer and used to work in a bank and then in Fiat Automobiles, in the Investor Relations Team. After 2 years she resigned, she left home, family and friends to follow me and my job around the world. I never taught her anything about photography, she started with the postproduction of my photos on the events and this gave me the chance to be involved in bigger events, until the day I had to be shooting in 2 different places at the same time and I gave her a spare camera, saying the words always remembered as my only lesson "To photograph is a Greek word that means 'to write with the light'. This is the ON button, go and to the job!". Since then she learnt everything "on the field" and felt in love with classic cars: she is the only partner I trust because she is a really hard worker and our personal features return us complementary also in our work. She also runs the office: logistic, administration and, very often, she has to be a lawyer again, because in our job the protection of the images rights is really very important.
— A little more about your symbiosis. Do you usually share responsibilities when you work on rallies or do you take pictures simultaneously together?
— As I said, the preparation of the rally is a Roberta's task (I have to say that anybody else does it but it's really a plus when you then are on the road). On the event we are usually not together, so we have more chances to get shots of more cars and in different places (but this also means a lot more photos to work on then); on some rallies we have been together in the same crew, so I drive, she navigates, I fly the drone and she takes photos. She likes more the landscape shots while I prefer the action ones but I have to say that she is much better than me in pan shots; I like spending time around the mechanics or finding creative and unusual spots while she goes for the sponsor feedback, media specific requests, etc… We both like to find a different point of views for our images, sometimes a bit dangerous, so you can find me hanging from a tree or laying down in the middle of the road, you can find Roberta standing on a tight parapet of the bridge or on the top of the roof of the media car in the Icelandic strong wind: that's maybe why they call us the Crazy Rastrellis… I make the drone clips and she edits the photo for the press kit every evening because very often I fall asleep… I think we have a symbiosis, the two of us, as a team.
— They say, it is hard to be with side by side with your life partner 24/7 but working with him/her is even more difficult. How do you cope with it?
— Sometimes we congratulate each other because it's definitely not easy to live together, work together, without time for hobbies or friends or holidays but there is nobody else we would like to do all of this with. Everybody know that we are always smiling and being partner in life always adds something to our job; we really trust each other because we both always give our best; sometimes we argue about how a job has to be done but we are sure that the final decision will be the best possible option. The secret of our working relationship is in a T-shirt that I often wear, saying "She is not bossy, she just has better ideas".
— Your life experience surely helps you both in family life and work. Speaking about the latter, by the way. You have such great experience in photography that it is impossible to imagine that there is something you haven't taken a picture of. And still, do you have a dream of shooting something you haven't depicted so far?
— It's true that I really like take pictures, it doesn't matter if for job or not. I made some appreciated reportages on the swordfish hunting in Sicily, with very rare fishing images, but I'd like to take an underwater shot of a swordfish while swimming near it.
— And, finally, let us touch upon the topic of current interest. Italy was severely struck by COVID pandemic. We would like to know how the lockdown has impacted your life. And, also, have you made any plans for the rest part of this year?
— I came back from Australia to Sorrento when Italy was shut down while Roberta came back to Turin to stay with her parents, so, we spent more than 2 months separated. We have lost all our core business on events (rallies, regattas, weddings) until November but, with a lot of respect for all the people that have been affected by the virus, we can say it has been a really good period because we finally had time to stay at home (we usually don't spend more than 12 days at home per year) without travelling too much and making up a lot of backlog. Roberta had the time to edit thousands of photos to finally meet the client's requests, I worked on 20.000 old slides to skim, scan and catalogue them: something absolutely impossible only to be thought with our usually job routine. Currently we are working a lot with the drone for geological recons, we are making many shootings of motor yachts for the yards, advertising campaign and chartering services or underwater photos in the Phlegrean fields, and I'm working again as art director and graphic designer as I did at the beginning of my career. In August we would like to finally restyle our website, since 2012 we never had the time for un update. We still don't know what will happen in Autumn so, fingers crossed, our first rally will be the Rally of the Tests in November in U.K.