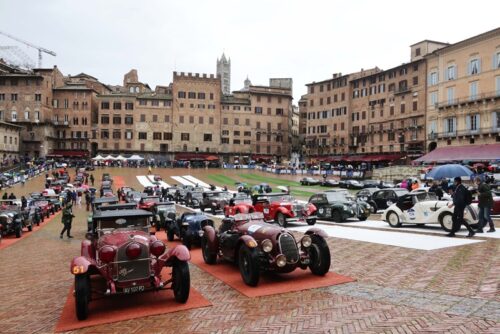 There is a simple but very succinct expression in English that can be used to describe the performance of Andrea and Roberto Vesco at the Mille Miglia 2020 — «step by step». Having taken the lead on the first day, they consistently increase their advantage over their closest rivals, who have no choice but to struggle one another for the remaining places on the podium. As Andrea Guerini said when asked if there could be any changes in the top three at the finish line, «Vesco has too big gap; Sisti / Gualandi and Fontanella / Covelli will fight for the second place only.»
At the end of the third day, Sergio Sisti / Anna Gualandi managed to move up to the second place in the overall standings, beating Fontanella / Covelli, but considering there are only 90 points of the gap, the fight on the final day will be in the best traditions of motorsport.
Significant changes also took place among the female crews on the second-to-last day of the competition. Silvia Marini / Francesca Ruggeri got back to the lead onboard a Bugatti T40 with 680 points over Federica Vignetti / Rossella Torri.