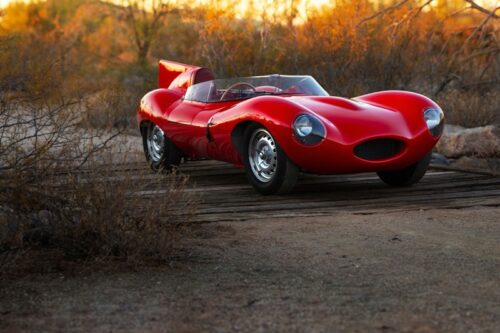 RM Sotheby's first auction this year took place in Arizona. Representatives of 35 countries took part in the auction, some of which were able to personally attend the auction.
Atop the charts by the end of the auction was a 1955 Jaguar D-Type, which was sold for $ 6 million. This car is one of 54 built between 1954 and 1957, 5 of which were burned down in a fire at the Brown Lane plant, and 4 more were disassembled for parts. It is worth noting that this model of the English manufacturer won the 24 Hours of Le Mans three times (1955–1957), and in 1957 the car took not only three prize steps of the podium, but also were ranked fourth and sixth in the final standings.
The «silver medalist» of the bids was a 1937 Bugatti Type 57SC Tourer by Corsica, which went to the new owner for $ 4,735,000. The top three was shaped by a representative of the modern car industry — a 2020 McLaren Speedtail. The most technologically advanced and fastest car of McLaren went under the hammer for $ 3,277,500. In addition to the McLaren Speedtail, the McLaren Senna was also sold at auction — its final price was $ 1,044,000.
Among the pre-war classics, a 1932 Fisher Cadillac V-16 Convertible Coupe and a 1933 Dietrich Packard Twelve Individual Custom Convertible Sedans caught the eye. Luxury cars of the 1930s went under the hammer for $ 1,225,500 and $ 819,000, respectively.
Three sports cars from the 50s were not left unnoticed either. A 1954 Ferrari 375 America Coupe from Vignale, unveiled at the 1954 World Auto Show in New York and the Geneva Motor Show, was sold for $ 2,557,000. A 1956 Ferrari 250 GT Alloy Coupe by Boano was sold for $ 1,352,500. Very close to Ferrari and Mercedes-Benz was a «green metallic» 300 SL Roadster of 1957 that in the end went under the hammer for $ 1,066,500.
"It was tremendous to start the year off on such a positive note given that we were the sole remaining auction company to host a live event for the annual Arizona weekend. In working with the local authorities and the capable team at OTTO, we were able to safely welcome clients back to the live auction format," said Gord Duff, Global Head of Auctions, RM Sotheby's. "Our team worked extremely hard to ensure that the auction preview and event itself provided a safe atmosphere for clients to inspect cars in-person. Additionally, we saw that the added benefit of our preparation which included thousands upon thousands of additional detailed photographs, condition reports and documentation on all cars all available to our clients in advance of the auction truly helped make those who weren't there feel comfortable bidding, whether via telephone, internet or absentee. With a diverse top three leading the charge—a period-raced D-Type, a beautifully presented Bugatti Type 57SC with notable provenance, and the first Speedtail to be sold at public auction—this sale proved once again that best-of-category, top-quality cars of every era continue to draw significant interest from collectors and bring strong prices."