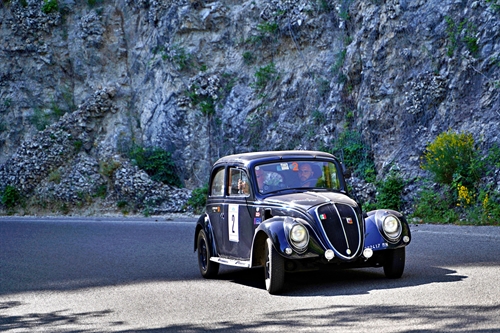 The eighth stage of the Italian Championship on the regularity of retro cars was held in Avellino. More than thirty crews came to the start, including several winners of previous years, participants and prize-winners of the «Mille Miglia». The total length of the route was 200 km, including 4 time controls (KV) and 65 time tests.
The victory was won by the Fabio Loperfido / Gianluca Caneo crew on the 1936 Fiat 1500 6C, representing the Classic Team.Fabio and Marco Salvinelli took the second place with a gap of 29.76 points. Closed the top three winners Andrea Malucelli / Monica Bernuzzi at the wheel of a Fiat Duna 70 (1989 edition).
According to the results of the rally, the winners of the «Mille Miglia» of different years-Gianmarco Fontanella (bronze medalist in 2021), along with Alessandro Moretti and Sergio Sisti (silver medalist in 2020) / Corrado Corneliani were also classified in the top ten.
In the women's competition, the best was the crew No. 11 Gabriella Scarioni/Ornella Pietropaolo on the Austin Mini hle in 1982.
The team competition was won by representatives of the Classic Team-Fabio Loperfido/Gianluca Caneo, Fabio and Marco Salvinelli, Salvatore Cusumano/Alberto Carrotta, Gianmarco Fontanella/Alessandro Moretti, Sergio Sisti/Corrado Corneliani, Maximum Corinthians/Laura Paisiello, Luciano