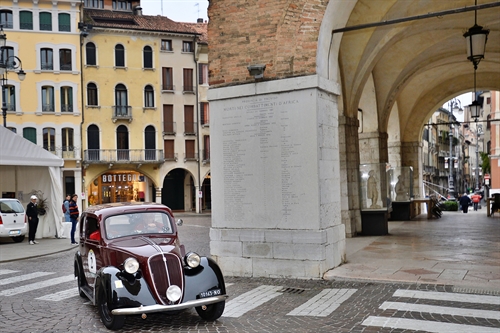 In Treviso, on September 26, the penultimate round of the Italian Regularity Retro Rally Championship took place. 47 crews went to the start, including two-time winners of «La Marca Classica» (2018, 2020) Alberto and Giuseppe Scapalo, silver medalists of «Mille Miglia — 2020» Sergio Sisti and Anna Gualand, father and son Fabio and Marco Salvinelli.
Despite the high level of competition, the Scapalo brothers managed to win not only the race, but also the title of the Italian retro rally champion for regularity. For Alberto and Giuseppe, this is the first victory of this level.
The silver medalists of the race were Fabio and Marco Salvinelli, losing more than 70 points to the winners. Lastri Claudio / Pantani Valter closed the top three with a 1975 Alfa Romeo Giulia Nuova Super.
The team competition was won ahead of schedule by Nettuno Bologna represented by Scapolo Alberto / Scapolo Giuseppe (Fiat 508 C, 1937 release), Dalleolle Massimo / Traversi Alessandro (Autobianchi A112 Abarth 70Hp, 1980 release), Rapisarda Giuseppe (Morris Mini Mk1, Issue 1965).
In the women's standings, at the penultimate stage, the best was crew # 4 — Gabriella Scarioni and Caterina Vagliani (Porsche 356 Sc Coupè. 1964).