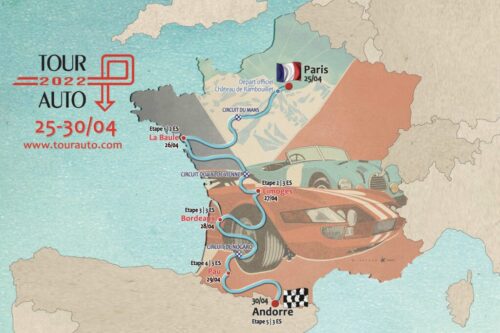 «Peter Auto» have revealed the details of the route of the retro-rally Tour Optic-2022. Traditionally, the event will begin in the French capital on April 25 with technical and sports checks. The next day, 230 crews will set off on an exciting five-day journey with a total length of about 2 thousand kilometers.
On April 26, the pilots will proceed from Paris to the summer residence of the French presidents — the Château de Rambouillet, from where for the first time in history they will go to the commune of La Baule, located in western France.
A day later, the participants will travel to the south-west of the country to the famous city of Limoges, proclaimed the «capital of fire crafts» because of the production of porcelain, Limoges enamel and stained glass windows.
Moving inland from the world of art, the crews will travel through the world famous wine region of France — Bordeaux.
On the last-but-one day, the participants will move to the homeland of the two founders of the royal dynasties — Henry IV (Spanish and Parma Bourbons) and Charles XIV Johan (Bernadotte) — Pau.
From Pau, for the first time since 2002, the crews will go to the Principality of Andorra, where the ceremony of awarding the winners will take place, moreover, this will be the inagural finish of the rally on the territory of the Principality.
It should be noted that next year the crews will visit three circuit while on the rally — Le Mans Bugatti, Val du Vienne and Nogaro. In total, the participants will have to go through 14 special stages in 5 days.
Registration for the rally will open on November 18 and end on January 1, 2022. Eligible are cars manufactured from 1951 to 1972 and which took part in the Tour de France Automobile.
The full rally schedule is as follows (subject to change):
Stage 1 – Tuesday 26 April 2022
Paris – La Baule
+ Le Mans Bugatti circuit
+ One special stage
Stage 2 – Wednesday 27 April 2022
La Baule – Limoges
+ Circuit du val de vienne
+ Two special stages
Stage 3 – Thursday 28 April 2022
Limoges – Bordeaux
+ Three special stages
Stage 4 – Friday 29 April 2022
Bordeaux – Pau
+ Circuit de Nogaro
+ Two special stages