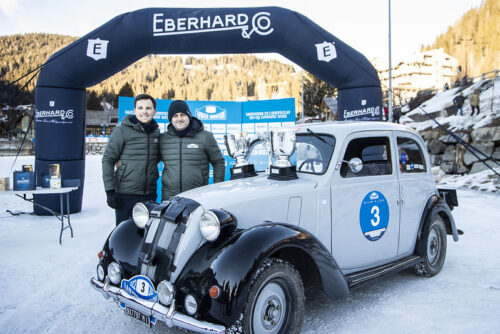 The crew of Edoardo Bellini/Roberto Tiberti has won the 34th «Winter Marathon» driving Fiat 508 (1937). The young tandem representing FM Franciacorta Motori team was ahead of its closest rivals Guido Barcella/Ombretta Ghidotti by 30.81 points. Alberto Aliverti/Stefano Valente has closed the top three winners. It is worth noting seven crews from the top ten gave preference to Fiat cars this year.
In addition to the main standings, the winners of Eberhard Trophy and Porsche Center Trophy in Brescia were determined on Saturday, where the eight best Porsche participants and crews who took 1st to 32nd places in the main standings were allowed to participate.
(Vincenzo Bertoli/Alberto Gamba crew became the best In Eberhard Cup driving a 1938 Fiat 508C. Among the crews representing Porsche, Nikola Barcella / Michele Vecchihad became the best on the coupe 356 (1963).