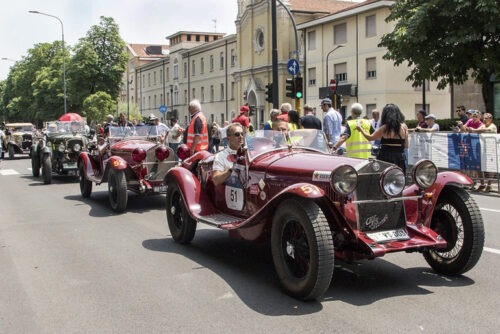 This year, 405 crews will start at the Mille Miglia, and several dozen cars are on the waiting list and ready to replace a retired participant at any time.
Forty-seven crews opted for Alfa Romeo — 47 cars. Spectators will also see Bugatti, Ferrari, Maserati, Mercedes-Benz and OSCA at the start. Among the foreign crews, the largest number of participants is represented by the Netherlands — 121, The USA — 65, Germany — 59, Belgium — 55 and the UK with 51.
Multiple women's champion Silvia Marini will take part this year in a 1929 Bugatti T40. The reigning winners of the Most Beautiful Road Race in the World, Andrea Vesco and Fabio Salvinelli, will start as they did last year in a 1929 Alfa Alfa Romeo 6c 1750 Super Sport Zagato from the collection of Hans Hulsbergen.