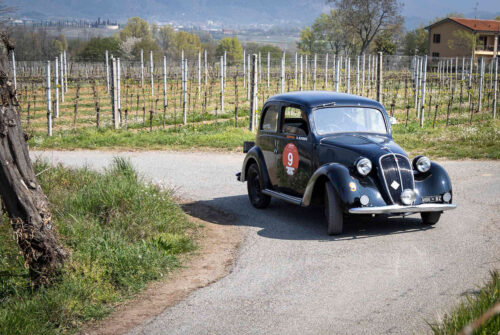 On April 8, the Franciacorta Historic retro rally took place for the sixteenth time in province Brescia (Italy). 98 crews went to the start of the rally, 93 of which were included in the final protocol.
The winners of the rally this year were Alberto Aliverti/Alberto Maffi in a 1937 Fiat 508С . The crew beat their closest rivals Edoardo Bellini and Roberto Tiberti in a 1937 Fiat 508 C by 1,37 points. Closed the top three winners Andrea Belometti/Doriano Vavassori on a 1929 Lancia Lambda 221 Spider Casaro.
In the team standings, the best were the crews from Franciacorta Motori — 824,91 points, the Brescia Corse got the second place (966,84), the third line of the protocol was taken by the RI Porsche 356 (1.548,75).
The best foreign crew of this year were the representatives of Switzerland — Stefano Valente/Charlotte Magaraggia on the 1933 Fiat 508 S. The victory in the women's competition was won by Federica Bignetti Bignetti and Luisa Ciatti in a 1939 MG TB.