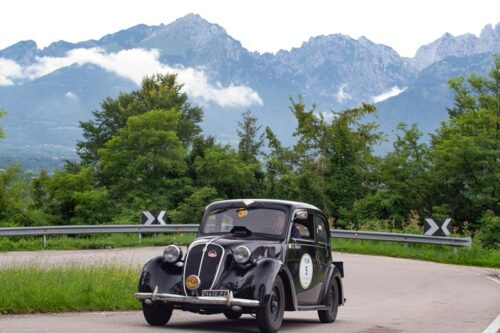 The first day of the Coppa d'Oro delle Dolomiti ended with the unconditional leadership of the current winners Giovanni Moceri and Valeria Dicembre, despite the difficult weather conditions and a busy sports program.
The start of the Coppa d'Oro delle Dolomiti has never been as quiet as this year. Due to the restrictions connected with COVID-19, the participants hit the road with a few camera clicks and an announcement from the presenter, and not under the usual applause and emotional conversations of the audience. But, as they say, thanks for that too. After a long break, the participants were happy to go to the start, even if in unusual conditions. And this is the most important thing!
The thick fog and drizzling rain, of course, tried to spoil the mood of the participants, but they were so absorbed in the fight against the current winners of the Coppa d'Oro delle Dolomiti — the crew of Giovanni Moceri / Valeria Dicembre — for the intermediate leadership that it seems they did not notice it.
Despite all the efforts made, no one managed to get around the champion duo of Campionato Italiano Grandi Eventi ACI Sport on the first day. Only a few can bring more than fifty points to the closest rival, and Moceri / Dicembre belong to this group (the gap between first and second place at the end of the first day was 51.43 points — editor's note). Of course, no one likes to lose so much on the first day, but there are two days ahead, and anything can happen. Gianmario Fortanella / Annamaria Covelli in a 1939 Aprilla Lancia and Antonino Margiotta / Vincenzo Bertiere in a 1947 Volvo Pv444 have a chance to compete for victory with the intermediate leader. As Alberto Aliverti said in an Alfa Romeo 6C 1750 SS Zagato during a stop at Piazza dei Martiri in Belluno, «Whoever goes faster does not win, but who is more precise wins». And it's hard to disagree with that.
Top 10 results for the first day: