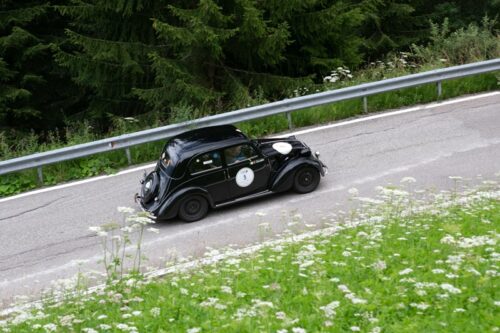 Giovani Moceri and Valeria Dicembre defended their title by winning the Coppa d'Oro delle Dolomiti for the second year in a row. In addition to coming atop the main standings, the couple from Palermo won the UBI Banca Trophy this year. After the victory, Giovanni shared his impressions of the race: "We are delighted to have won the Coppa d'Oro for the second consecutive year, an event expertly organized by ACI Sport, which has managed to combine pleasing scenery with an ideal technical and sports component in every respect. Others should take as a model what the organizing committee, headed by Marco Rogano, managed to do».
Antonio Margiotta and Vincenzo Bertieri finished second in two days of competition with a score of 451.29 points in a 1947 Volvo Pv444. Another crew from Italy — Osvaldo and Andrea Peli onboard a 1934 Fiat Balilla Coppa D'Oro (502.50 penalty points) became bronze medalists of 2020.
The top five also includes Gianmaria Fontanella / Annamaria Covelli (508.74) and Luca Patron / Alberto Scapolo (546.25). It is worth noting that the Latter of the crews drove the oldest car to set off in 2020 — a 1925 Bentley 3 Liter Speed.
Despite the fact that the winner in the main standings has been determined, on Sunday the crews will compete for victory in the Tour dei Sestieri di Cortina, and in the evening they will receive an awards ceremony at the Miramonti Majestic Grand Hotel.
Results Coppa d'Oro delle Dolomiti: