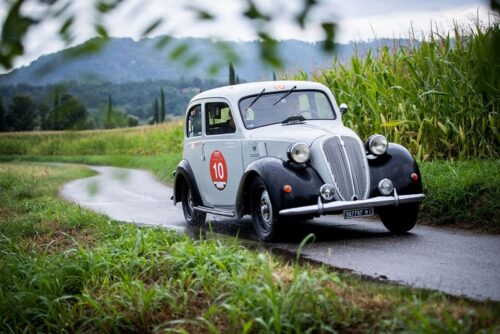 For the thirteenth time in history, Italy has hosted the Franciacorta Historic retro rally. Despite the rainy, chilly weather, the mood of the participants was high. Meeting friends and acquaintances, having coffee and going on an exciting journey behind the wheel of your favorite car this year is especially valuable, given all the challenges that Italians have to bear.
However, 63 crews arrived in Nigolina-Bonomeli, first of all, to fight for the victory, and not to spend time with like-minded people. Given the level of competition this year, it was hard to predict who will manage to complete the 145 km route with the minimum number of penalty points.
Taking into account all the circumstances, it was also difficult to imagine that the fate of the trophy at the finish line would be decided by some 12.34 penalty points in favor of three-time winners — Edorado Bellini and Roberto Ottorino Tiberti, who became the best in 2016, 2017 and 2018. At the same time, it is hard to think how heart-breaking it was at this moment for the silver medalists — Guido Barcella and Ombretta Guidotti. But, without a doubt, a loss of just over ten points to such an experienced crew can be considered a success to some extent. At the same time, Alberto and Federico Riboldi, who closed the top three, lost 61.65 points to Bellini/Tiberti.
Do not forget that in addition to personal classification there were competitions among teams. This year Franciacorta Motori became the strongest with Bellini/Tiberti, Riboldi/Riboldi, Molinari/Molinari, Tirelli/Tirelli and Pedrali/Finardi. But the special prize in the form of the motor boat Riva Aquarama as the best crew based on the results of two special stages for accuracy on Lake Paratico went to the Barcella/Guidotti duo. The winners of the local classification for the crews from Brescia were Fabio and Marco Salvinelli in a 1930 Fiat 514 Mille Miglia, who finished fourth in the general classification.