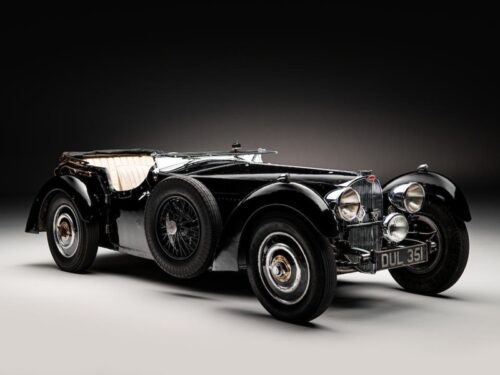 Sales of the online auction «Legends of the road», which brought Bonhams over £7 million, topped the Bugatti Type 57S, which went under the hammer for 4,047,000 units of British currency. The fastest car of its time, built at a plant in Molsheim back in 1937, did not leave the walls of its garage for more than fifty years, but this did not affect its external and technical condition in any way. The press service of the auction house called the car «Sleeping Beauty» and it is difficult to disagree with this.
A 1960 Aston Martin DB4GT showed an equally impressive success at the auction. Like the Bugatti, the car was in the garage for a long time and the new owner, who paid £ 1,975,000, will have to make the difficult decision after the purchase whether to leave the car in a semi-restored state or return the car to full life. Fortunately, the kit contains all the necessary spare parts, including an automatic radio-extension button.
Against the background of the French-English duo, a replica of a 1934 Frazer Nash TT was not lost. The car, named after the British firm's amazing success in the Northern Ireland Tourist Trophy in 1931 and 1932 and designed for the sports car enthusiast, was sold for £253,000.
It is worth noting that in addition to cars, several automobilia were presented at the auction, among which the one to be distinguished was a gearbox from a Bugatti Type 57/57S, sold for 24,000 pounds sterling, and a Furet-Gergovia 1.2-ton jack attached to the above-named car which also came from the estate of Bill Turnbull and overcame the initial price of £400, reaching the point of £3,060.
James Knight, Bonhams Group Motoring Chairman, said: «Today's sale shows that exceptional examples of examples of rare and pedigree collectors' motor cars are attracting strong interest and bids from passionate collectors and enthusiasts.
It also proves the effectiveness of our proven Live and Online format — Bonhams innovative response to the global and local restrictions regarding Covid-19 — which still enabled spirited bidding from around the world.»