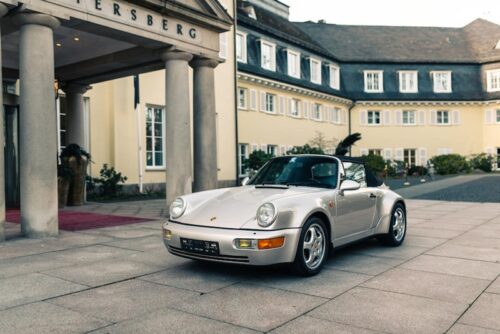 Bomhams hosted an online auction «Les Grandes Marques du Monde» from March 3rd to 10th. The first place was shared by the Porsche 911 Carrera 2 Type 964. «Works Turbo Look» 1992, which in the past belonged to one of the most famous athletes of the 20th century Diego Maradona, and the fastest and most powerful production car of its time — the 1960 Aston Martin DB4 Series II — sold for € 483,000.
1959 Porsche 356A T2 1600 Super Convertible D Chassis, produced in 1959, showed good results during the online auction. The convertible in the original «Blue Meissen» was sold for € 253,000. The 1987 Ferrari 512BBi Coupé, was sold for € 184,000, repair required. Especially in replacing the camshaft belt. As a result, the new owner must answer the main question: «To restore or not.»
A few words about the 1971 Citroën DS21 IE Décapotable, it was sold for € 172,000. One of four cars equipped with a semi-automatic roof, built at Chapron based on DS21 IE, and probably the only one ordered directly from Henri Chapron, as opposed to the more common Cabriolet Usine purchased from the local French automaker's dealership.