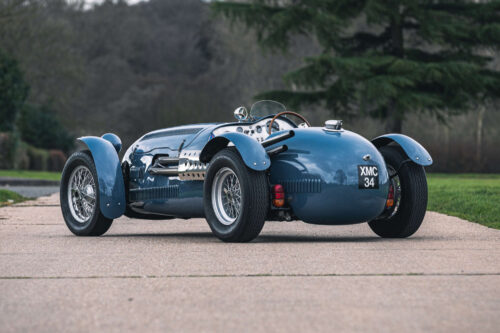 The past weekend was marked by several auctions at once, one of which was organized by Siverstone Auctions. The lots, which included both automobilia and racing classics and more, were put up for auction under the title The Race Retro Live Online Auction.
In total, before the start of the event, the catalog contained 135 pieces of vehicles from different eras, genres, and even of different purposes. So, one of the most colorful characters was a Formula 1 racing car — Williams F1 'Red 5' FW14 display car, which was sold for 174.3 thousand pounds. In addition, a 5-meter Brian James CarGO Connect trailer — with a total cost of £5,400 — and a complete set of parts for a 1973 Porsche 911 E 2.4 Targa that went under the hammer for just over £30,000 were up for auction.
The most expensive lot in the end was a 1950 Jaguar HWM Alta, considered to be iconic not only for the history of motor racing in Great Britain, but also for the post-war period in the history of the country as a whole. The uniqueness of the car, which was once driven by John Heath, Lance Macklin, George Abecassis and Stirling Moss, lies in the fact that there were only 3 similar cars produced. Abecassis and Heath improved their 1949 HWM to enter the 1950 Formula 1 season, thus making the first major step in popularizing the «royal races» on the British Isles. Initially, 4 cars and one prototype were supposed to appear in the line of racing «Jaguars», but in the end there were only 3 cars: FB102, FB103 and FB104. In October 1950, it was this car that became the victorious one for Stirling Moss at the Castle Combe competition, and already in 1951 the car was sold to Oscar Moore. The cost of Jaguar HWM Alta at the last auction amounted to more than half a million pounds — 517,500.
Among the cars that have shown good results, it is also worth noting a series of the Italian auto giant Ferraris: a 2011 599 GTO (Classiche) (500.625 pounds), 599 GTO of the same year of production (406.125 pounds) and 330GTC from the famous Pininfarina workshop of 1968 (about 331.8 thousand pounds). In total, for 2 days of trading, 28 lots did not find their owners, but today the organizers gave them a second chance, and on the official website of Silverstone Auctions you can see the final price at which unsold cars are priced. The most expensive of them ended up being the trio of Ascari A410 prototypes built for the 24 Hours of Le Mans marathon.
Photo: Silverstone Auctions