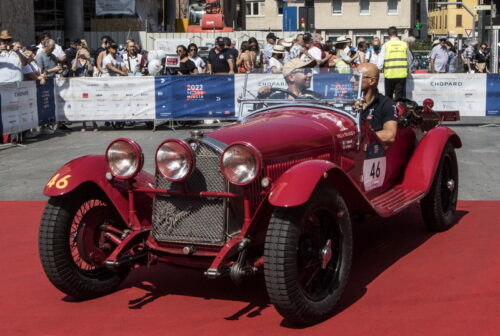 Multiple winner of Mille Miglia Andrea Vesco, teaming with Fabio Salvinelli for the second year in a row, is leader after first day of the Mille Miglia — 2022. Vesco and Salvinelli drive at the 1929 Alfa Romeo 6C 1750 SS Zagato. On second place, 122 points behind, are stayed Alessandro Gamberini/Guido Ceccardi (Fiat 514 MM).
Alberto Aliverti and Stefano Valente at the wheel of Alfa Romeo 6C 1750 SS Zagato close the top three at the end of the day — 333 points to the leader.
Last year's runners-up Andrea Belometti and Gianluca Bergomi are seventh. The winner and awardee of the Mille Miglia of previous years Sergio Sisti is ninth. The 2019 winner Giovanni Moceri, this time in the same crew with his wife Valeria Dicembre, is 21st in the standings.