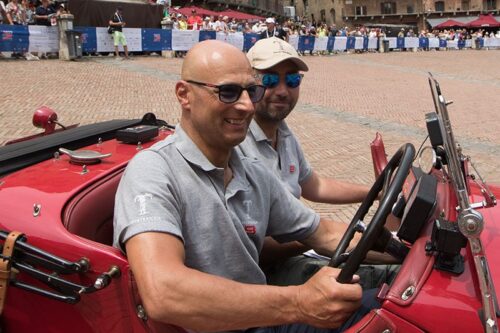 The third day of the rally Mille Miglia — 2022 has ended in Parma. The crew of Andrea Vesco/Fabio Salvinelli continues to hold the first position in the standings. The duo, driving the Alfa Romeo 6C SS 1750 Zagato, took lead at the start of race and after heir advantage only increased.
At the end of the day, last year's race awardees Andrea Belometti and Gianluca Bergoli took second place. They are 1382 points behind the leaders. On third position is the family crew of father and son Lorenzo and Mario Turelli. They are 1781 points behind the leaders.
Turelli family will have to defend their place in the top three. Before final day of the competition, their main competitors are crews of Alberto Aliverti / Stefano Valente and Sergio Sisti / Anna Gualandi, who are on fourth and fifth place in the standings, 152 and 344 points behind Turelli respectively.
В субботу 18 июня участники ралли «Милле Милья» — 2022 преодолеют последний отрезок гонки, который проложен от Пармы до Брешии. Ориентировочно в 16:30 по местному времени первый экипаж должен будет добраться до финиша.
On Saturday 18 June, participants of the rally Mille Miglia 2022 will overcome last segment of the race, which run from Parma to Brescia. Approximately the first crew will finished at 16:30 local time.